The VW K 70
The K 70 was VW's first water-cooled, front-engine car and helped pave the way for the later Audi 80 and VW Passat/Dasher.
---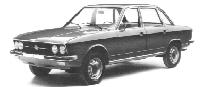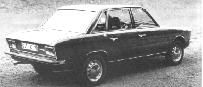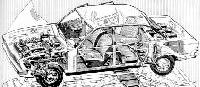 The VW K70 outside (1973) and inside (1970); artist's view (1970)
---
In 1969, VW bought NSU whose headquarters were in Neckarsulm, Germany, and merged them with Audi. NSU was predominantly known for its motorcycles and small rotary-engine powered cars. It's RO 80 was the first car designed for rotary power from the beginning, featuring a twin rotor Wankel 115hp engine. At the same time, it developed, but never actually produced the K 70, a conventional water-cooled front-engined vehicle. Facing a large investment in the K 70, and a reputation for unreliability of the RO 80 (later fixed by Wolfsburg engineers, but too late to save the model; production stopped in 1977 after only 37,204 RO 80), the company was ripe for takeover. VW won the race, competing mainly with FIAT, whom VW wanted to keep out of the German market. Before production started in August 1970 VW decided it needed to modify the K 70 before changing the NSU moniker on the front grill with its own and ended up making significant, although mostly undetectable on the outside, changes to the car. The main problem for VW engineers was that VW already produced another car of the same size: the VW 411 (= Type 42). In the release notes of the K 70 (= Type 48) VW stated that "type 48 and type 42 are of similar size. Both cars have similar front and rear suspensions as well as passenger-cells with effective protection by front and rear crush sections." So VW engineers had to improve the K 70 without impairing VW 411 sales. To make the K 70 competitive it had to get an improved 411-like rear suspension as well as improved crash safety and better brakes (The front disk brakes were mounted inside the engine bay causing overheat problems). Some further improvements haven't been ready when production of the K 70 started in a production plant at Salzgitter (25 miles southwest of Wolfsburg): In 1971 VW made some interior changes like the replacement of the K 70's steering wheel and seats with those from the VW 411 as well as minor exterior changes like the use of Audi bumpers.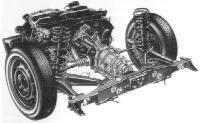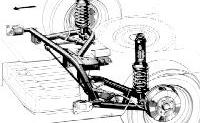 The rear suspensions of VW 411 (left; including engine and gearbox) and VW K 70 (right)
---
VW initially offered a 1.6l SOHC engine with 75 HP (optionally 90 HP) for the K 70 providing a top speed of 92 (99) mph. In contrast to all other VW models the K 70 was only available with a manual 4-speed gearing; there was no version with automatic transmission.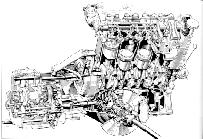 Engine and gearbox of the VW K 70.
Note that the front brakes are mounted inside the engine bay.

Faced with lower than expected sales, in May 1973 VW offered a 1.8l 100 HP engine, providing a top speed of 101 mph. After further disappointing sales, the car was dropped from the line in February 1975 with total sales of 211,127 units. One of the reasons of this poor number of sales is that the VW K 70 always had to compete against other VW's: Until July 1974 against VW 411/412, after August 1973 against VW Passat / Dasher. Comparing some technical data shows that VW Passat and VW 411/412 were strong competitors of the VW K 70 concerning performance and fuel consumption (1974 models):
| Model | Engine | Top Speed | Acceleration 0...100 km/h | Fuel consumption |
| --- | --- | --- | --- | --- |
| VW K 70 LS | 1.8l/90hp | 162km/h (101mph) | 13 sec. | 13.5l/100km (17.5mpg) |
| VW 412 LS | 1.8l/85hp | 158km/h (99mph) | 14.5 sec | 12.5l/100km (19mpg) |
| VW Passat TS | 1.5l/85hp | 168km/h (105mph) | 12 sec | 10l/100km (23.5mpg) |
The car never officially made it the US.
---
Reynold Klomp informed me, he has a K70 For Sale.
---
Jan-Anders Lindqvist has Another K70 Page

And Claudius has a page of K70 Links including this page!
---
A reader sent in his K70 memories and thoughts:

It is mostly unknown that the competition between the first generation of the Audi 100 and the K70 was most likely the major reason why VW never really focussed on, even neglected the K70.

While that Audi was a typical car of the late 1960s, the K70 concept was about 10 to 15 years advanced. Unfortunately it was never completely mature (like the engine block which sometimes 'blew up' what resulted in a sudden loss of all the engine oil - no damage, just a big mess). Overall the slightly less expensive K70 still was the better car, offering more space, higher safety standards and a number of convenience features like a glove compartment of the size of a small trunk. The real trunk had about 700 liters or 25 cuft. Even serviceability was better than that of many today's cars, for instance, the clutch could be replaced through a slot between engine and transmission, none of both had to be taken out.
Submitted by Ulrich Link, Brampton, Ontario
---
Return to Factory Pictures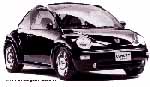 Return to Wolfsburg Trip page

Return to Scot's page.
---
Last updated 16Jun99

The VW K 70/Questions/Comments

Additional information, research, and pictures provided by Ralf Ziegler.