Wolfsburg VW Factory Tours
The VW factory in wolfsburg is home to the VW group headquarters, covering VW, Audi, SEAT, and Skoda. It is also where the original bugs were maufactured and where currently the Golf, Golf Variant, Vento, and Polo are made. The complex covers 8 square kilometers and emplys some 50,000 people. It is the largest plant under one roof in the world.

Tours are given daily at 09:30 for large groups of visitors (like tour buses) and 13:15 for individuals. Doors open for the individual tours at 12:45. The tour lasts about two hours and is entirely in German. A brief introduction, however, is provided in English, if required. The tour consists of introductory remarks and movie, and a Golf-powered cruise through the factory. Mike, who toured in the summer of '97 tells me they now have English tours as well.

The tour starts and stops in the main Visitor's Center where there are coin lockers and a small shop. The prices here are slightly better than at the museum, although the selection is not as large. Credit cards are not accepted. The tour itself is free.

To locate the factory/Visitor's Center, find the train station and follow the signs. Tel. no.: 053 61/9-2 42 70. Enjoy.

Items I found for sale here included:
Concept I Cars: about 30DM for a mdedium-sized model
60 Year Bug Anniversary Pins (2.60DM) and Bugs (14.90DM)
VW Playing Cards
VW Watches
Gold (expensive) and Silver (cheaper) VW Tie Tacks (I think I paid about 12DM for the silver one.)
VW Scarfs and Ties (high - maybe 70DM)
Lots of Bugs, Type IIs, Golfs and Polos (including the new multi-color model), Jettas, Passats, and Sharans (a joint venture Van with Ford)
VW Key Chains: 2.5DM and Up
Closeout of Pink Floyd Golf Cars
A noticeable lack of Karmann Ghias and Type III vehicles.
No books of any kind.
There was other stuff; I guess this is just most of the stuff I bought!
Please email any updates/comments to me, here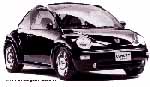 Return to Wolfsburg Trip page

Return to Scot's page.
---
Last updated 1Dec97

Wolfsburg Factory Tours/Comments/Questions