Wolfsburg, Germany: Readers' Tips
"JW" writes:

Well you are right, the Holiday Inn in Wolfsburg is not the best place to stay. There are other options:

Steimker Berg ParkHotel, much nicer place, 1 mile to downtown in the middle of a very nice park. Clean Room, great first class food. Point of contact: R Ziegler

Nordsteimke: walking distance to Walmart, ca. 2-3 miles downtown. Point of Contact: Herman Pessel. Busses leaveing ca every 30 min to downtown, takes ca. 15 to the Train Station (Bahnhof), great in price, Food is great buergerlich (family restaurant style)
---
Fred Voglmaier writes:

Two things I wanted to add is that Wolfsburg has a Youth Hostel (for the budget oriented) within walking distance of the plant. Adults can stay for an extra 5 DM (I was under 23 so I my cost was 21DM/person). Also they have a fee "City Bus" in Wolfsburg that takes you from the train station to the Tourist info and stops a bunch of places on the way there.:) PS, if your into Diesel cars, have a look at http://users.uniserve.com/~fred_v/tdi.htm
---
Marla Mccormick writes (w/ a corrected phone# from Christian):

I recently returned from Wolfsburg with my boyfriend. We stayed at an exellent bed and breakfast.

ALTER DORFKRUG am KANAL
Knüppeldamm 9
38442 WOLFSBURG
TEL: Tel.: 05361 39883
(international +49 5361 39883)

Excellent, friendly owners, great schnitzel. We were very impressed!
---
Dotty and John Carreno write:

We just returned from a four week trip on Monday. Started in Copenhagen and ended in London. Our second visit to Wolfsburg (this trip) was much more eventful than the last. We had a lot more time and were able to see the town more. Stayed in a hotel in the market area "The City Hotel Journal" ---very nice and inexpensive too. Went to the museum and noticed that a real "Herbie" has been added since our visit in 95. Was hoping to see a new beetle but I heard that they haven't reached Europe yet. I'm planning to get a red one to match my red 1966 bug :) Saw all the World Cup games and spent most of our trip in Germany -Lubeck, Munchen, Berchtesgargen, Rotenburg and Wolfsburg. Also hit Austria, Luxembourg, Belgium--(Brugge was wonderful!!) and England. Thanks!
---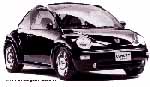 Return to Wolfsburg Trip page

Return to Scot's page.
---
Last updated 16Jul04

Wolfsburg Tips/Scot's Page/ Questions/Comments